According to a new study by consulting firm Contently with marketers, there's something of a crisis in confidence with Content Marketing. Ninty percent of respondents report a lack of trust in the way they are measuring their ROI in this area, with a further 69% using page views — a metric primarily used in the buying and selling of ads—to measure the success of their content.
What was more shocking was this graph in the article from Chartbeat, which shows there is no correlation between sharing and actually reading (…..it seems that some of the most shared articles are also the least read…..)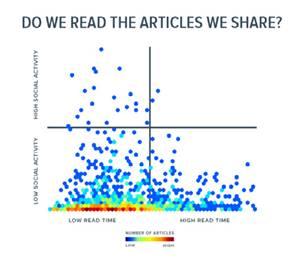 As marketers continue to invest in Newsrooms and Social Media Agencies, it has become more important than ever to look for independent benchmarks on content marketing performance. The jury is still out on the best individual metrics to follow, but its clearly going to be a combination of sources.
To find out more about R3's proprietary Digital Engagement Research , click here.